Affordable Funeral Payment Plan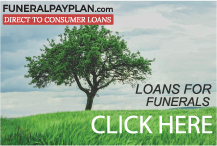 It's just a tough fact: funeral homes and cemeteries do not offer an affordable funeral payment plan after a death has already occurred.  If your family has lost a loved one that had no pre-need (pre-death) trust or any life insurance enforce, you well know the difficulty of paying the escalating funeral costs out of pocket.  Recently Forbes.com posted an article highlighting that American families are ill equipped to garner even $500 for an emergency, like the unexpected death of a loved one.  Funeral expenses are high and can range from as little as $750 for a basic cremation with no services to over $15,000 for a full burial including cemetery costs.  The need for an affordable funeral payment plan has never been more than today.
FuneralPayPlan.com offers consumers a simple and affordable funeral payment plan option.  With our easy online application, consumers may pre qualify for funeral expenses prior to making funeral arrangements at a funeral home or cemetery.  Knowing the amount of funds available provides a family comfort knowing they may have an affordable funeral payment plan which eliminates the financial stress on top of already frayed emotions of grief.
The United State economy continues to stagger and consumers are having a hard time just living because of limited financial resources.  When a death occurs most funeral homes, cemeteries and cremation providers require full payment up front before providing their services or products placing many consumers are in a very difficult position.  Death is not optional and the average consumer plans 3 funerals in their lifetime.  The expansive Baby Boomer generation is starting to die leaving their Millennial children behind to pay out of pocket for funeral expenses if life insurance is not available to pay costs.
Fortunately there is a solution at  FuneralPayPlan.com providing from as little as $1,000 to as much as $35,000 for families to have much needed money for funeral expenses.  Apply now for a an affordable funeral payment plan and get your funeral loan today!